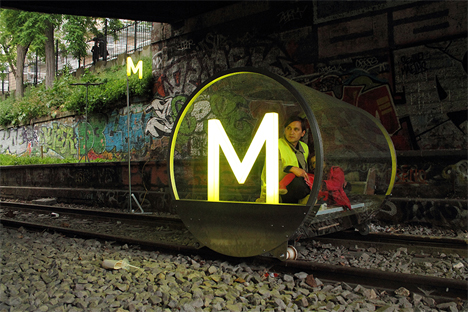 The world is nowhere close to being done with rail transport, but it can be argued that it plays a more minor role today than it did a hundred years ago. French design studio HeHe envisioned what it would look like if rail transport became obsolete and industrialized nations were left with millions of miles of unused railroad tracks.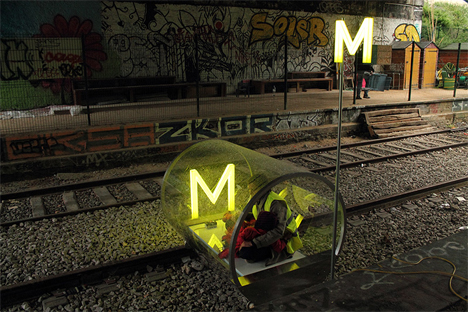 Their vision: the Métronome. The tiny, solar-powered, dual-rider capsule is simple and kind of futuristic. It is basically a platform with wheels, enclosed in a plastic bubble. Solar power moves it along at a rate much slower than just walking the tracks, but for cruising along and enjoying the scenery the pace is nice and relaxing.
The prototype vehicle is an exploration into the use of temporary vehicles on obsolete railroad tracks in Paris. It is the exact opposite of traditional rail transport: it is light, small, slow, and not fit for large numbers of people.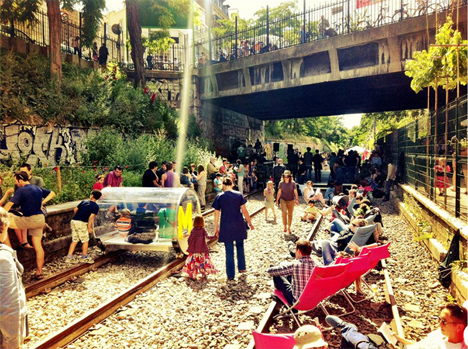 HeHe built the vehicle as part of their "train project," a larger exploration of potential future uses for a specific area of unused railroad tracks. It's an intriguing mix of past and future: the railroad no longer operates here, so will we one day repurpose the tracks for recreational sightseeing use? If we had to guess, we'd say that a project like the Métronome could breathe new life into run-down segments of railroad infrastructure – not just the tracks, but abandoned stations and platforms, as well.