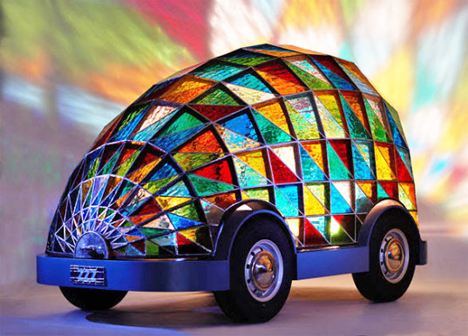 The dreaded beeping of the alarm clock and subsequent morning drive to the office are arguably the worst part of every day. Designer Dominic Wilcox is banking on driverless cars as the future of commuting, and he's designed possibly the most beautiful, relaxing one ever.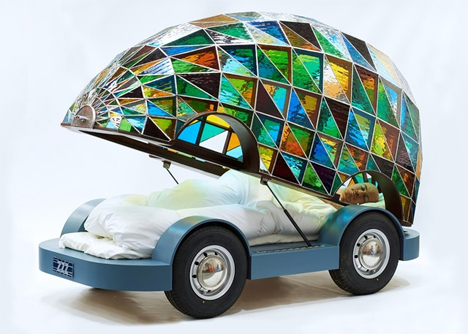 His remarkable self-driving stained glass car is more or less a bed on wheels. Built on a MINI platform, the car contains a mattress and the stained glass dome hinges upward to let you get in and out. The dome consists of a wooden skeleton with glass pieces carefully soldered on using the "copper foil" technique, the same method used to make Tiffany lamps.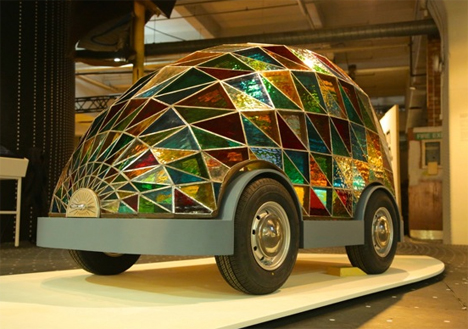 Wilcox created the car for the 2014 Designjunction as part of the Dezeen and MINI Frontiers: The Future of Mobility exhibition. His was one of five concepts selected as an idea for a future MINI Cooper design.
In Wilcox's vision, the cars of the future won't need seat belts and airbags because they will be so safe. They also won't need annoying design inhibitors like pedals and steering wheels, which frees up the entire interior for something more useful – say, a bed for catching some sleep on the way to and from work.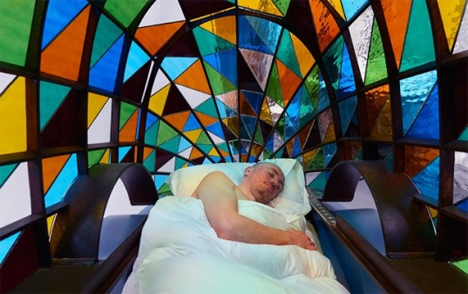 The cathedral-like interior seems quite serene. Wilcox's goal was to merge parts of what he loves about the past – such as stained glass windows – with the mind-boggling technology of the future.
In any case, driverless cars are still likely quite a few years from being completely autonomous, so at the moment the rolling stained glass cocoon is just an alluring concept.