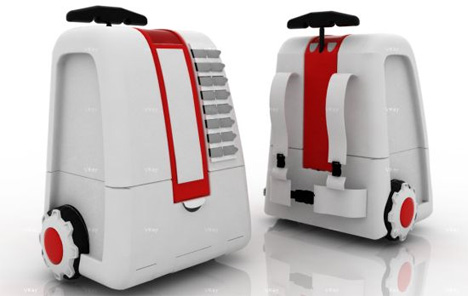 According to world health officials, vaccination is among the most important steps we can take to keep the population healthy. Unfortunately, in some areas of the world it's not practical to set up standard vaccination clinics. Either there is no medical infrastructure in place, or residents would find it too difficult to travel to clinics. Columbian designer Andrea Figueroa came up with this mobile vaccination kit which would allow for vaccinations to go to the patients.

The kit can be work as a backpack or pulled along behind like a rolling suitcase. It's more or less a self-contained clinic; it contains all of the necessary equipment to provide vaccinations, or it can be used as a standard portable medical kit. There's not much information describing what's going on in the pictures, but it looks like the bottom portion of the kit pulls out to become a step for the patient to stand on.
Simple innovations like this could help save millions of lives when an effective malaria vaccine becomes widely available, and it could be used right now for any number of routine vaccinations. Since people living in remote areas of the world often don't have access to effective medical care, bringing medicine to them could be our best chance of curbing certain infectious diseases.