Do you cringe when you think about how much energy (and money) those holiday light displays are sucking up? No worries, because smart plugs have you covered. Here are just three of the many products out there to help you monitor and/or reduce the amount of electricity you consume.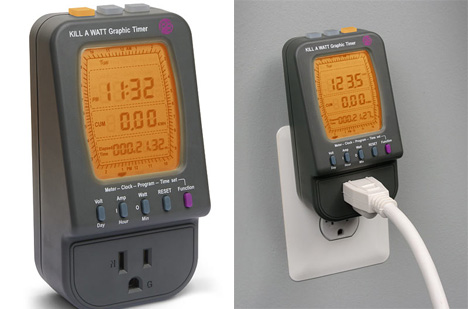 The Kill-A-Watt doesn't just let you program when your lights will go on and off (still the best way to fool burglars, according to grandpas everywhere); it shows you – on its sweet visual interface – how much energy your gadget is consuming. And as if that wasn't enough to make you want a few, the Kill-A-Watt also acts as a surge protector, keeping your precious electronics from frying at the mercy of an evil voltage spike. Pretty great, right? You can find them on ThinkGeek for about $70 each.

If you want to go a slightly more complex (but fantastically high-tech) route, the TalkingPlug from a company called Zerofootprint has you covered. The TalkingPlug fits into normal wall outlets and essentially turns them into nodes on a network. Each plug contains an RFID chip, microprocessor and the ability to network wirelessly with a home or office router. The accompanying software lets users control each plug, including when to turn the related appliances off and on, as well as see detailed information about each appliance's energy usage.

Somewhere between the two above products is the Powerzoa concept. Each of those little cubes goes between the gadget and the wall outlet and transmits information about the gadget's power usage to a secure website. From the website, users can monitor energy use and turn the plugs off and on. It's not available for purchase just yet, but it sounds like a solid concept and we're stoked to see it go into production.