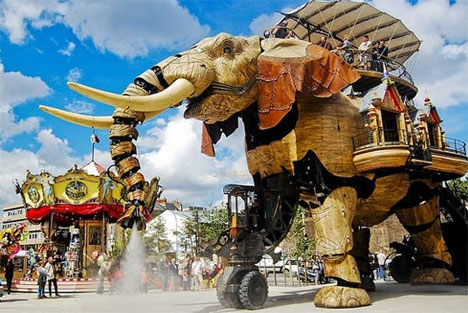 Robots made of recycled materials are unfailingly wonderful, but this one just blows all others right out of the water. This gigantic robot elephant was built as part of the Machines on the Isle of Nantes show in France. The Machines project celebrates the time-warping fantasy worlds of Jules Verne and fantastic mechanical creations of Leonardo Da Vinci.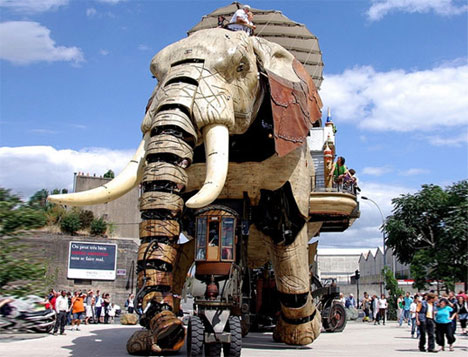 The elephant was actually created in 2007 for the Machines project's inauguration, and it has been on display – and available for impressive rides – since then. The robot can carry up to 49 passengers on a 45-minute walk.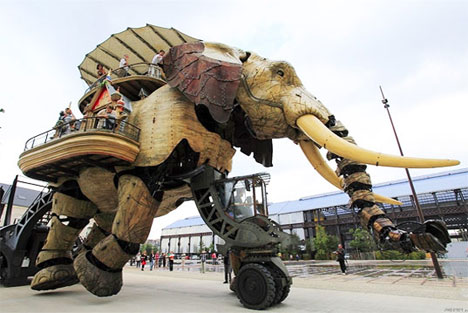 It took 45 tons of recycled steel and wood to put this beast together. Overall, the elephant is about 39 feet high and 26 feet wide. It was meant to be an approximate replica of The Sultan's Elephant, a huge elephant sculpture created for the traveling French public art show of the same name.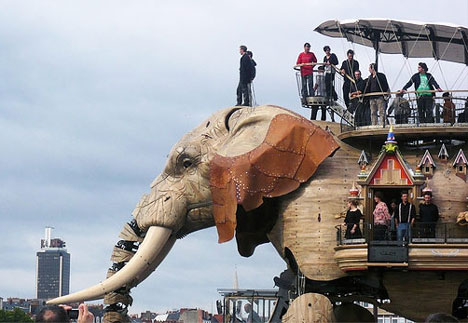 This version is known as The Great Elephant, and it definitely deserves the title. It's a rather steampunk-looking interpretation of an already-impressive animal. The gigantic beast even shoots steam from its trunk. We can't help but think of how awesome it would have been to be dropped off at school on this thing every morning.