If you've ever had to haul your bike up several flights of stairs or drag it onto a train with you, you know that lightweight bikes are the absolute bomb. And if you have to keep your bike inside, you've probably wished over and over for one with a smaller footprint. Graham Hill, founder of Treehugger and perpetual bike tinkerer, worked with German bike manufacturer Schindelhauer Bikes to create the ThinBike: an 18-pound full-size urban bike with an insanely small profile.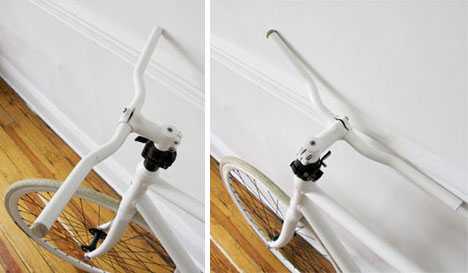 Made for life in the city, the ThinBike features unique twisting handlebars that turn sideways and lock in place to greatly reduce its profile. The pedals fold up as well, taking the bike's overall profile down to an impressively tiny size and allowing it to nestle right up against your apartment wall.
Just as importantly, the ThinBike runs on a carbon belt drive, not a greasy chain, so your clothes don't get dirty when you're carrying your bike around. At only 18 pounds, it's easy enough to carry with you just about anywhere. The stylish all-white bike is a custom bike made just for Hill; his description of the design process (and his wish list of other bike features) is helpful for anyone else who might be thinking about designing their own wicked custom urban bike.