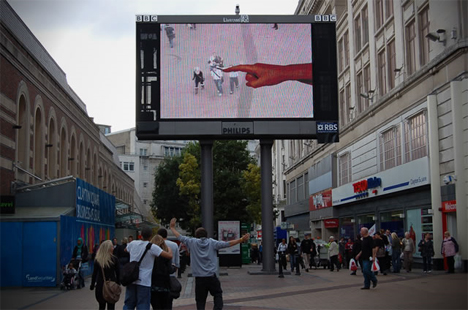 Have you ever asked yourself what might happen if humans weren't at the top of the food chain? What might life be like if we could be plucked from our daily routines and manipulated by some outside force? London artist Chris O'Shea developed a playful public art exhibit for the BBC Big Screen in Liverpool that teases and plays with passersby. The screen features a live feed from the street, showing the pedestrians below it. As they make their way across the square,, a giant hand darts across the screen to poke, tickle, flick or pinch them right off of the screen in real time.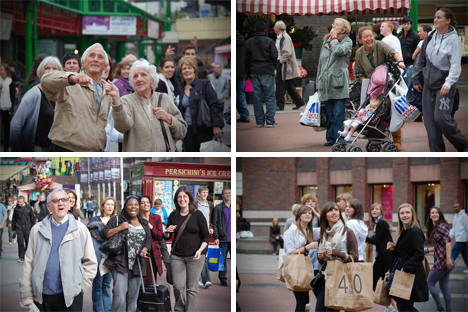 Hand from Above from Chris O'Shea on Vimeo.
The installation is called Hand From Above, and it's geek art at its finest. It was created, according to the artist, to encourage people to slow down in the midst of their daily routines. By throwing something completely unexpected into their day, O'Shea is injecting a little laughter into everyone's lives. If the video above is any indication, most pedestrians love the project. Only a few walked by without even a smile, and most who saw themselves being harassed on-screen stopped to play along.