Did you ever climb into the clothes dryer as a kid? Did you ever want to try the washer? If you lived in 1970s Japan, you might have gotten a brief chance. Sanyo displayed a suite of futuristic electronics in the 1970 World Expo in Osaka; the examples were meant to show off what the home of the future would be like. One of the most fascinating gadgets was their Ultrasonic Bath.
The bath consists of an egg-shaped chamber six feet off of the ground that contained a chair. After the user climbed a ladder to enter the chamber, a pre-rinse cycle sprayed the body with jets of water. The machine then moved on to a massage bath mode, ultrasonic cycle, and a rinse. After the user was thoroughly sanitized, the gizmo entered the dry cycle, complete with special lights to blast away germs.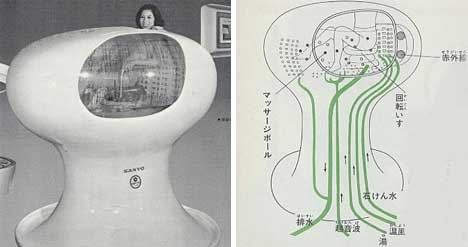 Sadly, the Ultrasonic Bath never actually made it to production. It's just wacky enough to make it seem cool, even by today's standards. And with its funky 1970s styling, it would undoubtedly be the most stylish thing in your home – whether you decided to keep the bathing suit or go au naturale.