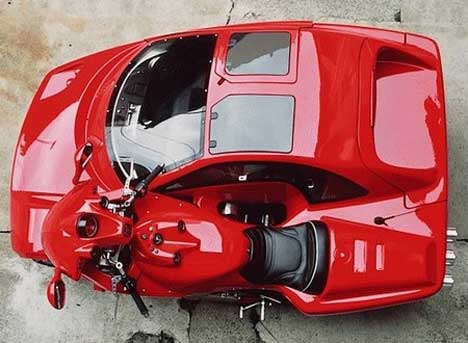 Call it a tiny sports car with a motorcycle growing out of its side, or call it a sexy motorcycle with the world's weirdest sidecar…but whatever you call it, the Snaefell is a feat of amateur genius. Built by Francois Knorreck, the wonderfully unique vehicle took more than a decade, 10,000 man-hours and more than 15,000 Euros to construct. The body of the sidecar was all custom-built, and inside it looks like an actual sports car.
The motorcycle portion is built on a Laverda triple 1000cc base, giving it power and grace. And it needs it when it's hauling around a sidecar that's as big as a commuter car. But taken together, the motorcycle and sidecar just seem to blend together like they were born attached at the hip, which is likely just what the amazing vehicle's creator was going for.
The literal sidecar was built from various pieces of a Citroen Xantia, a VW GTI and an Audi 80. Rather than going for the usual configuration of a sidecar attached to a motorcycle with a bridge connector, Knorreck decided to build a smooth body encompassing both parts of this extremely unusual vehicle. The result is something you'd probably have no choice but to stare at enviously if you saw it passing you on the highway.