Taking a look back at the history of television, it's pretty amazing to note what dramatic transformations their form has undergone. From massive cabinets that took up half of the room, to hefty thick boxes with wire antennae, to thin flatscreens, modern TVs couldn't be more different from their predecessors of half a century ago. But even the flatscreens have the unfortunate problem of being an obvious electronic item, which doesn't exactly jive with minimalist design. Ad Notam has created TVs that answer the call for televisions that are truly beautiful – even when they're turned off.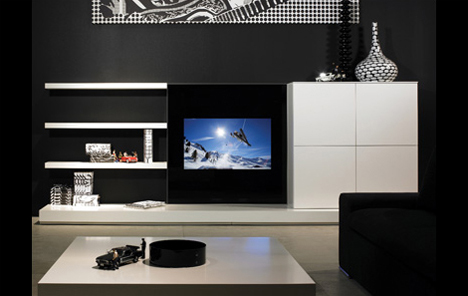 Ad Notam's most notable item is the top photo, featuring an HDTV hidden behind a wall-size reflective piece of glass. When on, the screen is clear and easily watchable. When off, the whole outfit just looks like a wall-to-wall shiny mirror. Kind of cool, right? It doesn't stop there – the company offers various and finishes besides the mirror finish, as well as many configurations including built-in storage. The TVs can be ordered in either 36″ or 46″ sizes – both pretty dang big when you consider the big glass border around the screen. You can go for the wall-mounted or floor-standing variety, depending on your available space.
Unlike traditional TVs, which can break up the flow of a room, Ad Notam TVs could actually be an attractive part of the décor. Because the shiny surface acts as a mirror when the picture is off, the pieces can make a room seem bigger – not to mentioned polished and stylish. The company offers custom configurations so you can even tailor your mirror TV to your exact specifications. Although they're completely awesome and we want several, they've got to be pricey. There are no costs listed on the website and, as mothers everywhere are fond of reminding us, if you have to ask how expensive it is you can't afford it. Besides which…well, to put it delicately, how many couch potatoes actually want to see a reflection of themselves while watching Heroes and polishing off a bag of Doritos?