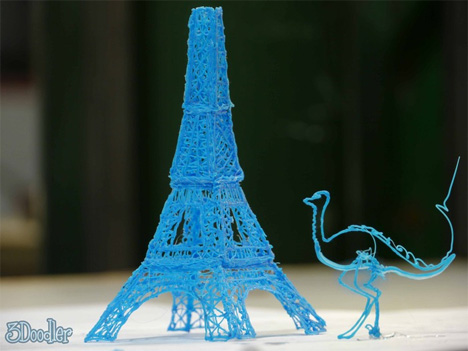 3D printing has gone from an expensive, industry-specific tool to a quick manufacturing method that we can now even use at home. The 3Doodler from WobbleWorks is the next step in the evolution of 3D printing. It's a hand-held 3D printer that can draw three dimensional objects in mid-air.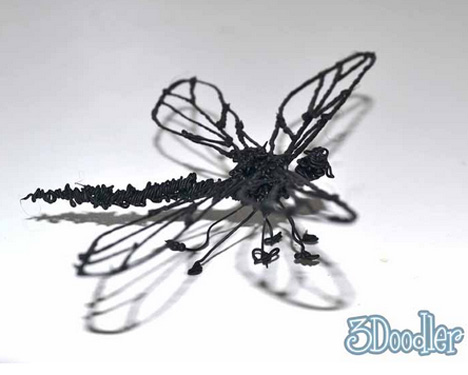 The 3Doodler is a new kind of technology that rapidly heats and then cools strands of plastic. As you draw in the air with the pen-shaped device, the plastic cools so quickly that objects you "draw" instantly harden. You can add on layer upon layer, building objects in the air.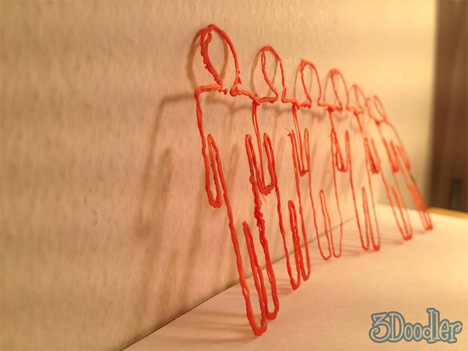 You can also create objects by drawing on a surface, such as a stencil printed on a piece of paper. When they're cooled, you simply peel the objects off and they become fun, bendy 3D toys. The 3Doodler uses short lengths of ABS plastic, the same kind of plastic used by plenty of conventional 3D printers.

Unlike conventional 3D printers, the 3Doodler doesn't require any special software, knowledge or training to use. It's operated just like a pen, so most people should be able to use it upon picking it up for the first time. After a few hours of practice, just about anyone can build awesome 3D models, jewelry, art and whatever else they can dream up.
WobbleWorks started a Kickstarter campaign to raise funds for production of the 3Doodler, originally asking for $30,000. As of the time of this writing, they've raised over $1.5 million, ensuring that we'll all soon be able to pick up this insanely cool dream machine to bring our imaginations to life.