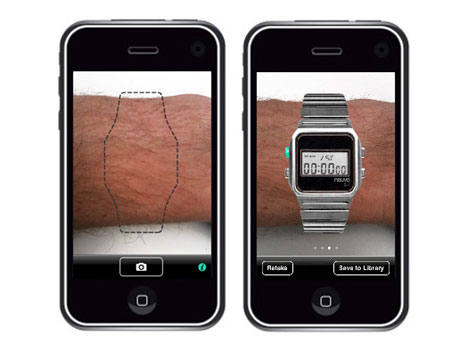 Back when we all used to shop in stores, trying things on before you bought them wasn't hard at all. But now that we're shopping online more and more, lots of our purchases are made without knowing exactly how the thing will look once we put it on. Watch-making trio Neuvo get how hard that is for some of us, so they're doing their part to make online watch shopping easier.
The best part of their product is, of course, an awesome watch. The Neuvo Prospector is like a cross between a super-fancy Rolex and a super-practical digital Casio. It's beautiful, but not so fancy that you feel like you'll be robbed as soon as you leave the house. It's easy to read, but not so simplistic that you look like a kid wearing it.
But the icing on the watch…er, cake…is the iPhone app that Neuvo developed for prospective buyers. It's called "Try It Before You Buy It," and it does exactly what the name implies: it lets you virtually try on Neuvo watches. Simply take a picture of your wrist and then scroll through the collection, deciding which of the pieces looks best on you before you order one. We're just waiting for the day we can try everything on this way.