We don't typically associate garbage trucks with beauty, but the City of Yonkers commissioned art "wraps" for six of its Department of Public Works vehicles. This unique art project was designed to raise environmental awareness, and it was the first of its kind in the US.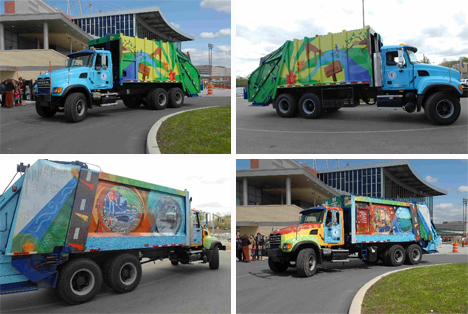 The top vehicle was designed by Yonkers high school student Patricia Villate, who was one of 30 students to submit designs for the competition. Her design shows a deer drinking from a stream of water as a nod to how each part of the ecosystem is linked. The bottom truck was designed by artist Nicoletta Barolini and shows DPW workers working in all four seasons of the year.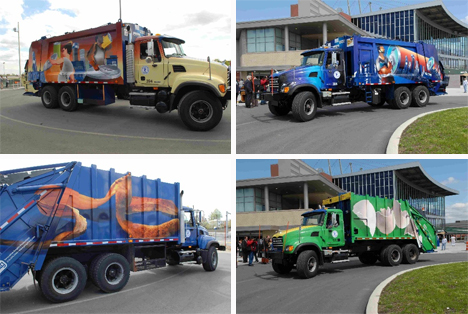 Above, the top truck was designed by artist Joseph D'Alessandro and recasts DPW workers as superheroes ridding the city of pollution. Just below that, the "Banana" truck from artist Chuck Davidson is a tribute to garbage itself. The bold, simple graphics are eye-catching and much more welcome to see in the streets than the plain side of a sanitation truck.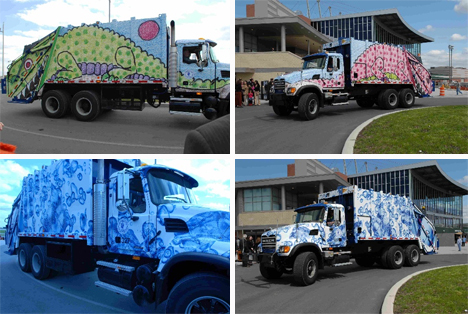 Above, the Yonkers Chomper Truck is probably one of the most interesting and whimsical garbage trucks ever. Designed by NYC artist Tom Duncan, it turns a garbage truck into a garbage-eating monster. Just below that, The Water Truck by Joy Taylor celebrates the role the DPW plays in getting clean, fresh drinking water to the residents of Yonkers.