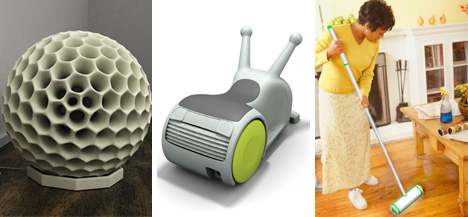 Vacuuming is a necessary household chore, but it can hardly be described as fun – unless you have one of these impressive vacuums, that is. These three vacuum cleaner concepts are cool enough to make cleaning the carpets a little more fun.
The Rideable Vacuum Cleaner concept from designer Kristina Andersson is a cute little canister vacuum that looks like a super-sized bug. Kids can sit on the back of the vacuum as it goes about its duties, letting them participate in cleaning the house. It might not be a huge contribution, but it might just help them to realize at a young age that they can have an impact on keeping the house clean.
Dave Hakkens' Dustball Robot Vacuum Cleaner concept takes a page from the book of existing robotic vacuums, but puts a new spin on the idea. The ball-shaped cleaner rolls around the floor, blowing air out to stir up dust and sucking it up into its hidden canister. When the canister is full, the vacuum just returns to its dock and begins to glow. While the concept is definitely intriguing, the ball shape doesn't seem to be the most sensible for a gadget that is expected to clean in small and out-of-the-way places like corners and under sofas.
Finding a decent storage place for a vacuum cleaner is a frustrating practice when you live in a small space. The Vacu-Broom is a student project from industrial designer Vinay Raj Somashekar that addresses this annoying problem. The small cylindrical vacuum is used as a hand-held cleaner for small messes. A telescoping handle stores in the side of the cylinder, and when you want to use the vacuum for cleaning floors you simply remove it, extend it and insert it into the gadget's main body.