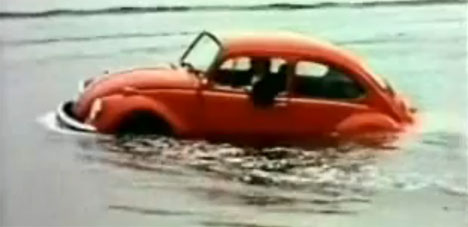 What's not to love about the unique shape, reliability, fuel economy and cult status of Volkswagens? The iconic cars have been adored all around the world for decades, and the company has always relied on witty advertising to draw in potential buyers. These three vintage VW commercials are some of the greatest examples of the fun, quirky marketing that made Volkswagen a household name.
This classic VW Bus commercial demonstrates how the bus got its signature boxy shape: its designers carved it out of a shoe box. The commercial conspicuously refers to the bus as a "station wagon," possibly because there was no frame of reference in the US at the time – the VW was the first passenger van of its kind in the country.
Although we don't recommend trying this with your own Beetle, this demonstration is the kind of awesome advertising you just don't see anymore. Of course, most of the classic Beetles from the days of this commercial have long since developed huge rust holes and wouldn't be even close to water-tight now.
Cartoon commercials are always a big hit, and this vintage animated VW advert is no exception. The commercial pokes fun at how other car companies were always redesigning their vehicles' appearances but not their functionality, while Volkswagen retained the same body shape year after year but worked to improve their cars' performance.