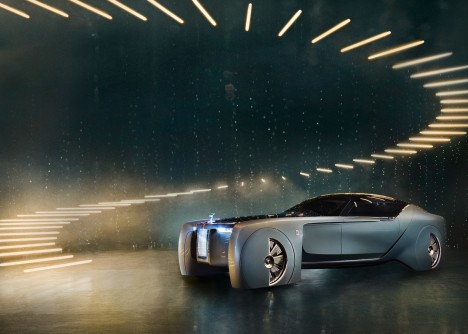 One could call it the Rolls Royce of concept cars, especially since this is their first foray into the realm of conceptual vehicles, and it truly is outfitted with everything worth of a futuristic luxury ride.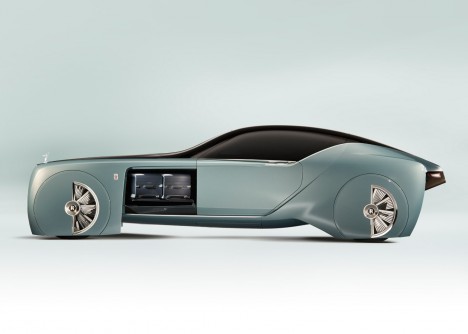 Aside from the futuristic look and artificial intelligence that helps riders select from entertainment options, the Rolls-Royce Vision Next 100 also rolls out a red carpet, projecting red light from its side for when its passengers enter and exit. The virtual assistant accepts destinations by voice and advises the car's occupants about upcoming meetings or events on its way to various destinations.
Inside, the lounge-like interior features wood paneling, deep pile carps, and a wool and silk sofa facing an entertainment screen that can double as a workstation.
It is designed to "anticipate the mobility demands of the luxury customer of the future" featuring a smaller engine space cleared out to make way for more luggage.
"The wheels are housed in individual cases, with exposed arms and struts that connect to the chassis and also support the hull-shaped body at the front. The 28-inch tall but narrow wheels upon which the car glides are each hand-built from 65 individual pieces of aluminium, and enclosed to deliver the impression of a futuristic catamaran"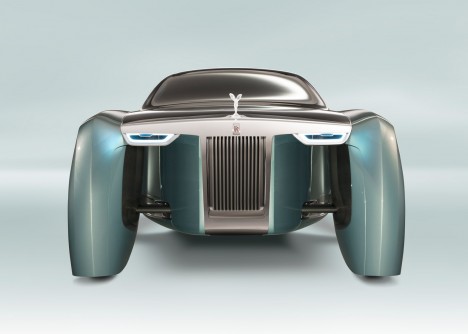 "From whatever angle the Rolls-Royce Vision Next 100 is viewed, it seems to float, whether at rest or in motion. This lightness is achieved through the paring back of this vehicle to the essence of a Rolls-Royce by the design team, who were freed from their current constraints by the new propulsion and coach-build technologies now available to them."