If we, the geeks of the world, had our say, we'd all be driving DeLoreans, Batmobiles, or those kick-ass cars from Minority Report. But sadly, we can't all own our dream cars. We'll just have to be semi-satisfied with ogling the geeky art cars other people have modded and tricked out.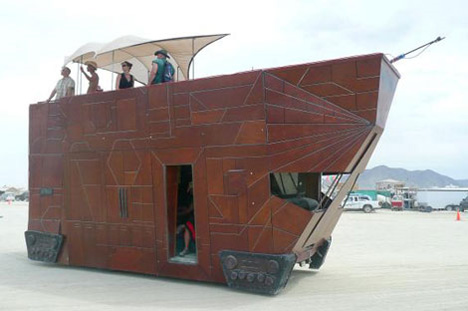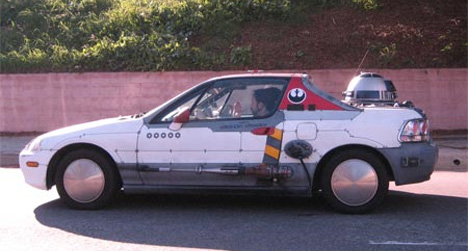 How cliché is it to start out with a bunch of Star Wars vehicles? Cheesiness aside, these are some very notable cars from people who obviously take their Star Wars just a bit too seriously. The top pic is a Jawa Sandcrawler seen at Burning Man 2007. Just below that you'll see a real, running Landspeeder replica built on a base of a 1988 Ford Escort. And finally, a nerd after our own hearts: a California driver who made his Honda del Sol into Luke's X-Wing Fighter – complete with R2D2 in back.
Maybe it's just the nostalgia talking, but isn't this DeLorean beautiful? All decked out in Back to the Future style, down to the very last detail. The license plate saying "XLR8288" is the perfect finishing touch. We're in love.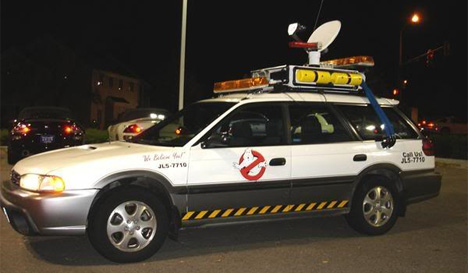 Children of the 80s won't believe this one. A Ft. Collins, Colorado man turned his 2003 Subaru outback into a replica of the Ectomobile, complete with light bars and door graphics. During a particularly bad snowstorm one winter, he and his roommate drove around the city helping stranded motorists. Who you gonna call?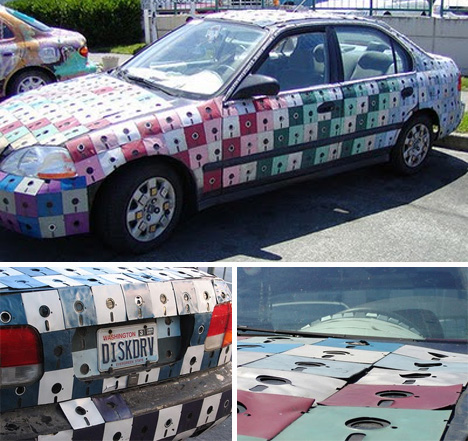 The owner of this car knew she wanted to do an art project with it, and she wanted it to be something tech-related. It was only after she found a pile of floppy disks tucked away in her closet that she got the idea to cover her car, a 1998 Honda Civic, with them. She painted each one individually before affixing them to the car. Other mods included gluing keyboard keys to the steering wheel, attaching old punch cards to the dashboard, putting "escape" keys on the locks, and affixing processor chips to the hubcaps.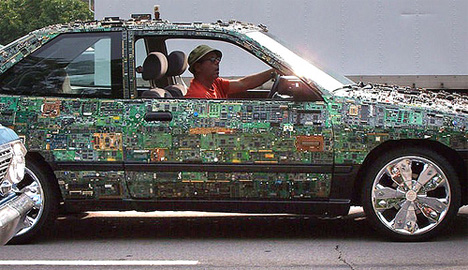 It really doesn't get much geekier than this. If you have a ton of old computer pieces just sitting around, what better way to use them up than to glue them to your car? That's what this driver did, and we have to admit it looks pretty awesome. It must add some weight to the car, but if you're driving around with a couple hundred pounds of old circuit boards on your car in the first place, maybe that's the least of your worries.
There isn't much information available on this Pac-Man shaped car, but it's obviously a chick magnet. Just look how the woman in the Baywatch bathing suit can't keep her hands off of it. We suspect you might have similar results if you build one of these for yourself.