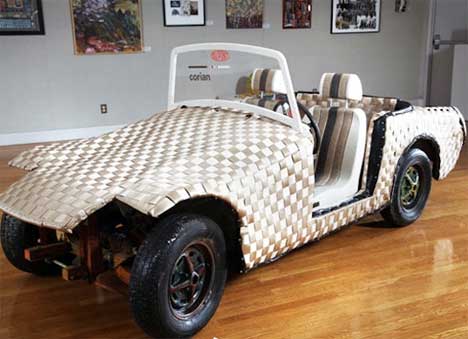 From a sexy little mid-60s MG Midget to a rusted-out firewood holder to a smart new piece of art, this car has lived a very interesting life. Artists Ann Conte and Jeanne Wiley found the sad remnants of the once-awesome car and decided to weave new life into it. The project is a testament to the power of recycling and sustainability. It uses a blend of new, recycled, and repurposed materials to create something that reflects the original item but steps outside of the boundaries of both the material and the idea of mixed media art.
After obtaining the rusted and neglected chassis from a neighbor, Wiley called Conte and the two began collaborating on the ultimate art car. They ordered more than 500 yards of seatbelt fabric online, then wove a new body for the car and bolted it down with more than 500 bolts. The gear shift is made of hollow ceramic flowers, and the head lights and tail lights are printed ceramic.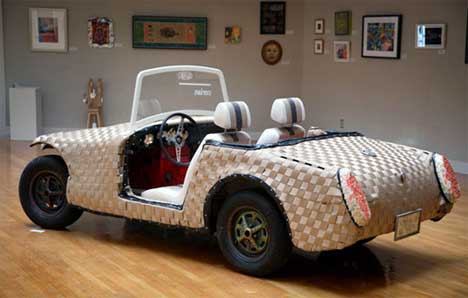 The car attracted the attention of DuPont; the company donated seats and a window frame made of their environmentally-friendly Corian material. The stunning finished product doesn't have an engine so it won't be driving off into the sunset anytime soon, but it is on display at the South Short Art Center in Massachusetts. Later this year it will be displayed in DuPont's booth at GreenBuild 2010.