Most households in America have more than one television set, even if we can only watch one at a time. Presumably, this is because carting a television from one end of the house to the other is impractical. Brooklyn-based design duo CW&T – made up of Che-Wei Wang and Taylor Levy – have created the TV Barrow to make the television a far more mobile gadget.
This object – part TV stand, part wheelbarrow – allows a television to be moved freely from one room to another. The functional piece of art is made up of spare bike parts that the duo say they had just lingering around their studio. Bike parts are, according to the designers, works of art on their own – but when put into a functional context other than the one for which they were intended, they become even more fascinating.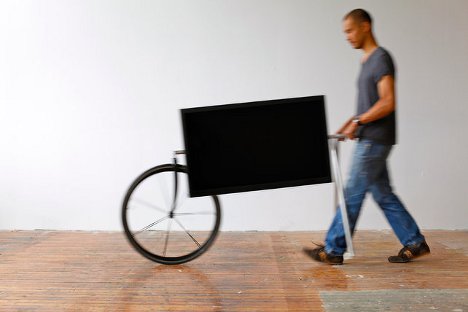 Its simple but functional construction means that the TV Barrow is sturdy enough to serve as a stationary television stand (for flat screens only, obviously) but easy enough to move that it can be carted around the house on a whim. The TV Barrow is more than just a decoration for the designers' studio – it is actually a custom-built product that can be purchased from CW&T.