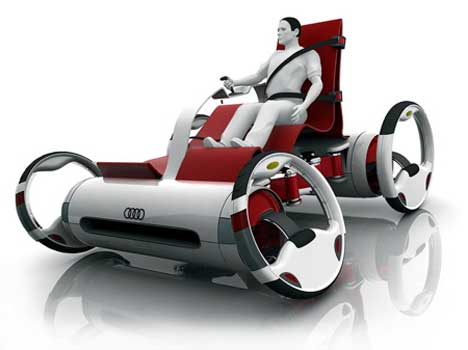 Most futuristic car concepts focus on smaller, aerodynamic bodies with funky shapes and forward-thinking designs. But some designers are taking futuristic cars in a different direction. This 2006 design from Alexey Bykov takes its cues from the horse-drawn carriages of years gone by. With an open-top design and single-handed joystick navigation, the Audi Quattroflex is a strangely romantic interpretation of the automobile of the future.

The central location of the joystick allows left-hand or right-hand operation of the same vehicle, meaning that it could be driven by either of the passengers. Both seats are fully adjustable, making for a very comfortable ride on both sides. The two-cylinder ride also allows for an expandable wheelbase.

The very strange-looking concept vehicle was created for the 2006 Interior Motives Design Awards, for which it took away a "Best Use of Technology" award. The theme the designer followed was "Emotion in Motion;" he wanted to unite the interior design with the whimsy of an open-top vehicle that brings to mind romantic horse-drawn carriage rides. There are still some very recognizable Audi design elements, though, making the concept look all kinds of modern and sleek. Unfortunately, we can't see this cool design ever becoming a reality – most of us don't enjoy bugs in our teeth when we're taking a leisurely drive.