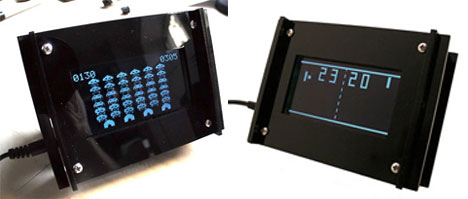 Clocks that only tell the time are boring – your clock should be doing something to entertain you rather than just taking up space. The awesome Monochron Clock Kit from Adafruit lets you program whatever kind of display you want to see, from plain numbers to Space Invaders to Pong.
MONOCHRON – open source retro clock from adafruit industries on Vimeo.
Without a doubt, the coolest display is the Pong game. The two sides play a perpetual game, with the "score" representing the time. When one side loses, the minute changes. The hour changes when the other side loses.
XDALICHRON (video) from adafruit industries on Vimeo.
The kit is a totally customizable clock platform, so with a little bit of technical know-how and a soldering kit you can program it to show whatever you'd like to see. Besides being an awesome retro piece of fun, it does all of those things you'd expect a regular clock to do: 12 or 24 hour formats, alarm with snooze, and long-lasting battery backup.