Gasoline prices are sky-high and probably not coming down anytime soon. If you can't afford a new, more fuel-efficient car, maybe building one is the next best thing. We can't vouch for the road legality of any of these vehicles, but pedaling around on a vehicle more passenger-friendly than a bike seems like a pretty great way to get healthier while cutting down on fuel costs.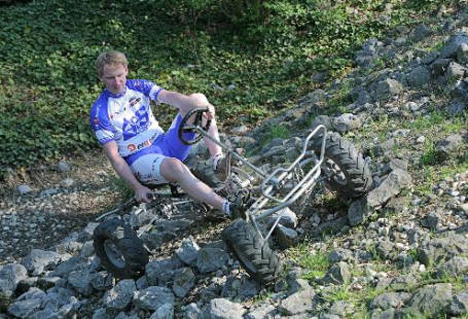 The TrailCart was designed to be a four wheel drive machine that runs on pedal power. It's constructed of high-end cycle parts, but should be much tougher and handle rough terrain with more stability than a mountain bike. The company manufacturing it is working to keep its weight under 50 kg, which is the typical weight limit for car-mounted bike racks. German inventor Frank Fraune attracted media attention when his creation was featured in local newspapers, and a company called The AS Group got behind the project. The TrailCart is being tested and refined further before it's released to rock your off-roading world.
The Railrider is pretty fun-looking, but we can't help but feel a tinge of terror looking at pictures of it. It's a lightweight, easily assembled contraption that you use to pedal along abandoned railroad tracks. You simply buy a kit for the frame online, then obtain some seats and pedals elsewhere, and in no time you've got your own hobo-mobile. An optional motor lets you travel even further while saving your leg power. You can even add a platform to the back for hauling things like groceries or pets. The terror, of course, comes from mental images of a train barreling down the "abandoned" tracks. Obviously, you'd want to be completely sure that no trains ever, ever use the tracks you're planning to ride on. But if it's post-apocalyptic long-range travel you're after, this is probably as good as it'll get.
And finally, a homemade car that is actually getting a fair bit of use on the roads. A Maryland couple built this adorable electric/pedal-powered car for running errands within a 10-mile radius of their home. Though it's creaky, it's solid – and it can reach speeds of up to 30 MPH. The creators are looking to create a second version – one in which the electrical bits are actually covered and protected from the elements.