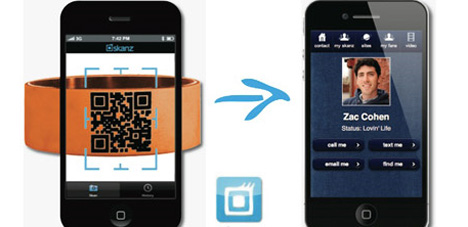 Connecting with people has never been easier than it is today – but it's also never been more complicated. We all have layers upon layers of contact info: email, phone number, website, various profiles on tons of other websites, and maybe even the old-fashioned snail mail address. The number of ways to get in touch have far outgrown the traditional business card format. A company called Skanz wants to take the stress out of connecting with people by giving you a futuristic way to share your online presence.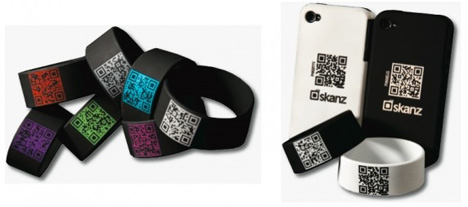 Skanz gives you a personalized QR code that's printed on either a wearable wristband or an iPhone case. When you meet someone you'd like to connect with, they use their own phone to read the QR code which then takes them to your personal Skanzsite profile. On that profile is all of the stuff you'd print on an infinitely large business card: a photo, multiple phone numbers, an email address (or two or three), instant messenger IDs, Twitter, Facebook and LinkedIn profiles, business and personal websites, blog link…and whatever else you want to share.
The QR code is designed to work with any mobile QR reader. Rather than everyone at a conference or social event exchanging business cards and later forgetting the faces that go with each, users can digitally collect data that takes up no physical space. The idea of wearing a Skanz band everywhere might seem a little silly, but at conferences or networking events there's no simpler way to make contact and make sure you're remembered.