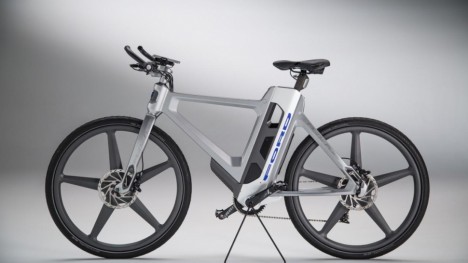 At the June 2015 Forward with Ford conference, the company announced a new line of three new electric bikes. The most interesting one is called MoDe:Flex; a model meant to be versatile enough for commuting, mountain biking, and road riding.
The bike features a smartphone holster on the handlebars; just snap your phone in and link it to the bike with a special app. An Apple Watch app joins the party and sync with both your phone and the bike, but each electronic device has its own function.
The phone app updates you on weather conditions, public transit information, and troublesome traffic ahead. The Apple Watch app keeps track of your heart rate and, if you have enabled "no sweat" mode, automatically kicks on the electric pedal assist to keep you from arriving at work drenched in sweat.
Some of the bike's other features are even more compelling. Ford doesn't explain how, but the bike can sense potholes ahead of you while you're riding and alert you via beeps from your watch. The MoDe:Flex also features "eyes free navigation," which causes one handlebar to vibrate when you need to turn in that direction (if you've programmed your route into your phone). When a car approaches you from behind, both handlebars vibrate so you can be on high alert.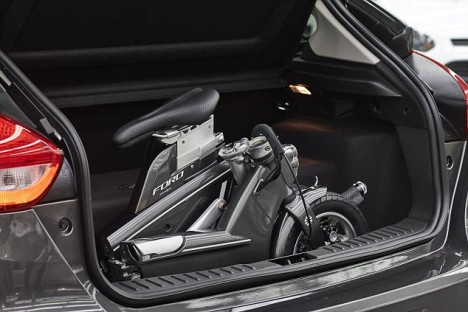 The MoDe:Flex, like the other ebikes in Ford's new lineup, folds in half to easily stow in your trunk or carry with you onto public transport. Ford hasn't released much technical information about the bikes or even when they might be available. But the fact that a car company is supporting clean commuting technology is still pretty cool, even if it is still just a dream at this point.