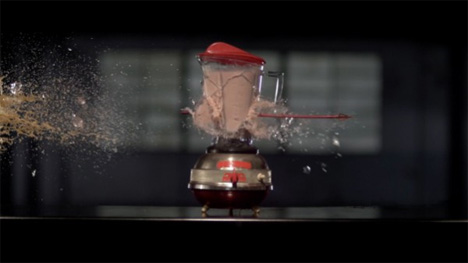 Most designers seem to be in love with retro styling. What's not to like about the familiar shapes and classic lines of past generations' gadgets? French car maker Citroen feels a little differently about the stylistic sensibilities of yesteryear; they want to see "retro" die a painful death.
This series of Citroen commercials graphically displays the car maker's position on recycling style elements in their designs. According to the ads, they are "Anti-Retro." For those of us who rather enjoy older gadgets, it's almost painful to see them destroyed. On the other hand, seeing gadgets beat up and abused is undeniably entertaining.
Directed by Jonathan Gurvit, these ads are wickedly fun to watch. In just 30 seconds, retro gadgets are reduced to shards, heaps, or puddles of ruin. The wanton destruction is all in the name of promoting Citroen's anti-retro (read: modern) DS3 model.
While we definitely don't condone the destruction of beautiful retro objects, we do have to give props to the director for managing to make his acts of gadget violence so awesome to watch.