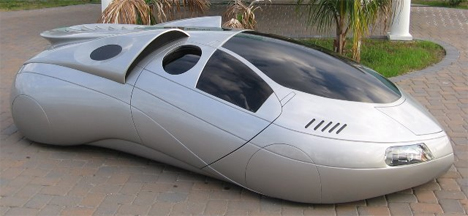 The Chevrolet Aveo may not be at the top of anyone's "most awesome cars" list, but this mod will surely get it onto some. Florida-based company The Car Factory took the modest Chevy Aveo, ripped off its skin, and built this incredible mod around the underlying frame. The Extra Terrestrial Vehicle, or ETV, looks like just the car to draw envious (and perplexed) stares from everyone it passes by.
Mike Vetter and other crew members at the Car Factory custom built the car's unbelievable new body, assembled it and put it up for sale on eBay for a whopping $86,000. Considering the amount of work involved, that price is probably reasonable.
The team is currently working on an electric version of the ETV. Having a car with extremely futuristic styling and a much greener footprint is enough to make just about any driver feel like a spaceship captain. Have the cash and can't wait for the next century to own an alien-looking car? According to Vetter's website, the team is available to custom-build an ETV just for you.