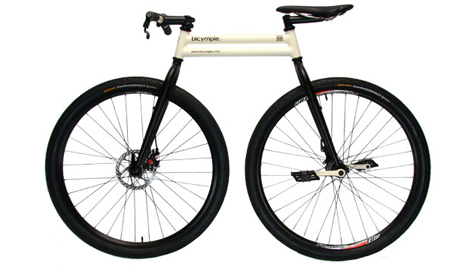 Bicycle designs have been moving more and more toward the simplest, most essential versions of themselves in recent years. A new competitor in the simple bike movement is Bicymple from Scalyfish Designs. The Bicymple is a chain-free bike that is lightweight, compact, and almost unbelievably maneuverable.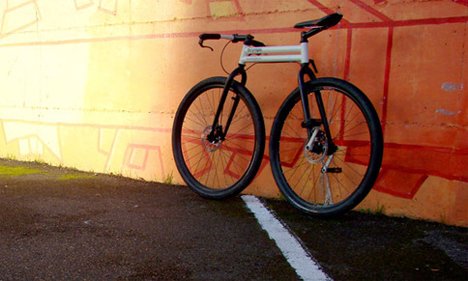 By removing the chain and decreasing the number of moving parts, the Bicymple is made into an easier-to-maintain ride without losing any functionality. The wheelbase is shortened, letting the Bicymple make tight turns that would completely escape the abilities of a traditional bike.
Even with all of these modifications to the bike's design, it remains a solidly functional machine. According to the designer, Josh Bechtel, "The Bicymple is comfortable, easy to ride, and brilliantly simple to maintain. The lightweight design and short wheel base make for a nimble ride. The optional rear-steer mode is reminiscent of custom 'swing bikes' and allows tighter turns and 'crab-riding."
This "evolution" from the traditional bike design is still in development, and it's unclear how well balanced the bike would be on the front-to-back axis. Still, it would make for a great city commuting bike thanks to its small size and weight, and let's not forget that it's actually a really beautiful modern design.