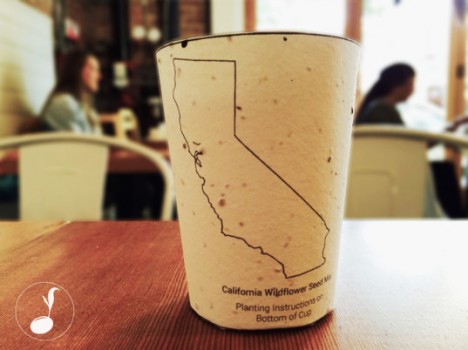 With the potential to convert nearly 150 billion trashed coffee cups per year (in the US alone) into regional seed bombs, this product aims to go beyond simple recyclability to help replenish native wildflower populations in regions around the country (or eventually: the world).

The creators of Plant Trash boast compost-certified cups that created with post-consumer paper contain organic seeds of indigenous species, starting with various parts of California – they are also testing to make sure the seeds will be able to survive the heat of being adjacent to a hot beverage.

"We have taken those fibers from local recycling centers, which would usually be too rough to implement back into a packaging product, and created a cup that we are happy to truly name the most eco friendly disposable coffee cup."

The paper cups themselves will biodegrade naturally in about half a year and help the surrounding soil grow the seeds contained within them. The seed mixes all include a tree seed as well as various region-appropriate plant seeds.
"The consumer drinks their coffee from the coffee shop.  If they choose to take the cup with them, they can plant it in several scenarios based off of the seed variety embedded within the cup. They can see the seed variety displayed on the front of their cup as well as planting instructions on the bottom of the cup.  "
"Where does our trash actually go?  With our current waste stream, as consumers none of us really know.  In America we discard over 146 billion cups from coffee consumption annually.  Even when we think we are recycling and doing a good deed, the paper itself within these products can only be reused 2-3x before the fibers are unusable and discarded into local landfills without consumer's knowing."

"Currently, we are testing the Coffee Cup CA Blend prototypes in a variety of soil types to pin point our germination periods as well as time range of decomposition for our bio based papers and liners. We are testing seeds types to find their temperature variability when exposed to high heats within the paper press processes as well as when they are exposed to the heat of hot beverages. We have a partnering company in which we are working with to further develop commercial grade prototypes for large scale production."