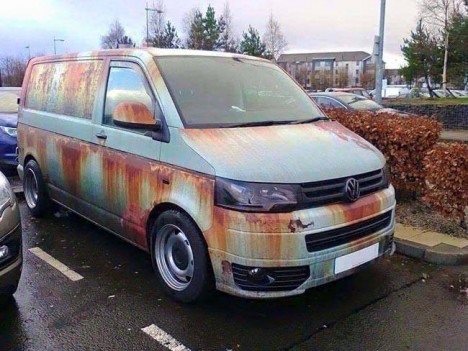 While some people wrap their cars in bright new colors or flashy custom designs, this creative solution lets you downplay the quality and condition of your vehicle, concealing it under layers of dripping red rust. A bit of hard work and careful planning and voila, a brand new Volkswagon T5 Sportline is suddenly an aging van on its last legs (or wheels).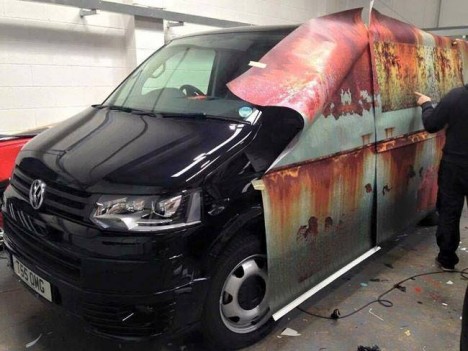 The simulated wear and tear featured on this sticker set was designed by Clyde Wraps, a company with a wide array of more conventional vehicle covering solutions (not just faux junkers). The client was apparently quite pleased, despite being stopped by cops just a few days later.
A clever combination of guerilla marketing and urban defense, this modified vehicle's surface will hopefully attract the right kind of attention – gawkers looking to verify its authenticity by day rather than thieves peaking in by night.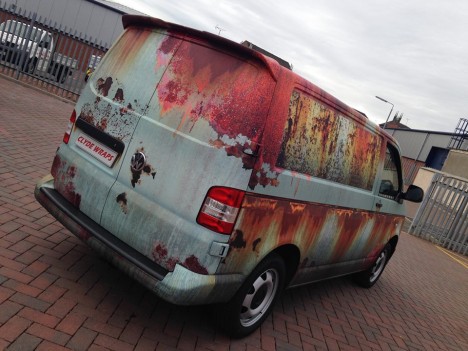 From Clyde: "We were delighted when a customer came in and asked our in house designer to create one-off rust artwork that made his brand new top-of-the-range Volkswagen T5 Transporter Sportline look like the paint had rust all over. Taking exact measurements of the entire van over and above the blueprints we already held ensured rust could look like it had ran from door frames, handles, badges and mirrors as well as adding extra fake metal panels that look like they are riveted onto the smooth new van. The more distressed we made it look – the better the end result of the rust!"