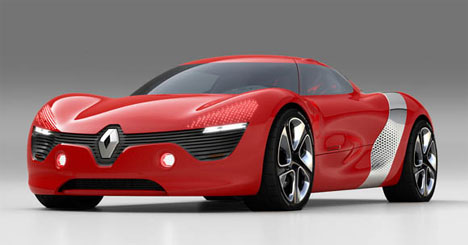 French auto manufacturer Renault will soon unveil an electric car that will take less time to charge than your mobile phone (with the right kind of outlet) and get you to work and back several times over before needing a charge. The DeZir design is set to be introduced at the Paris Motor Show in October, and from the teaser images Renault has released, it'll be a beauty.
The DeZir will charge in just 20 minutes with a 400V outlet, or eight hours with a standard household outlet. It will go from zero to 62MPH in just five seconds and will be able to reach a top speed of 112MPH. But of course, one of the most striking aspects of the design is the beautiful body. The interior boasts a "cocoon-like" atmosphere, and the gull wing doors add a bit more futurism to an already-impressive design.
As pretty as it is, the design is bound to change a bit before the car is made commercially available. But a rapid-charging electric car with a 100-mile range? We'd even trade the rad gull wing doors for an earlier release date.