Kuala Lumpur is about to get what might be the classiest subway trains in the world. The city is trying hard to get more citizens to take public transportation, so they are installing 58 gorgeous new trains designed by BMW. DesignworksUSA, a subsidiary of German car makers BMW, designed the cars to be appealing both in appearance and in experience.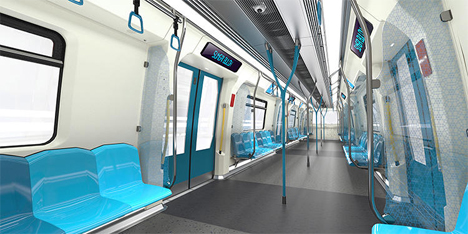 One of the goals in this project was to build a system that honored the area's rich cultural identity while inspiring progress. The exterior of each train displays a pattern of lights that call to mind the faceted architecture of the city. The interior of the trains uses an LED lighting system beneath the seats to inspire a feeling of spaciousness and safety.
Even the interior of the trains will pay homage to the traditions of the area. The interior color scheme features traditional Malaysian patterns in varying shades of blue, reminiscent of the vitality of Kuala Lumpur. The trains will also be kind to disabled passengers, with hand rails, space for wheelchairs, and sound and light indicators to indicate when the doors are opening and closing.
The train cars themselves are nearly as impressive as their appearance and features. They are made of lightweight stainless steel with weight-optimized components. When the trains reach the end of their estimated 30-year lifespan, they will be approximately 95 percent recyclable. The 58 new driverless trains will be in use in Kuala Lumpur's subway system by 2017.