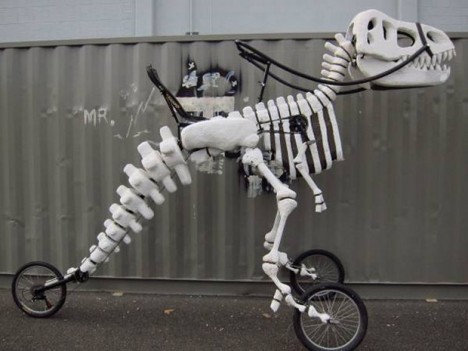 Oh, west coast…you have the weirdest people. One of them created Sue, the 12-foot-long, 8.5-foot-tall art bike in the shape of a juvenile T.Rex. Thankfully for the rest of the world, that genius (that's not sarcasm – this bike engineer is an actual genius) has decided to find a new home for Sue for the low price of $2,000.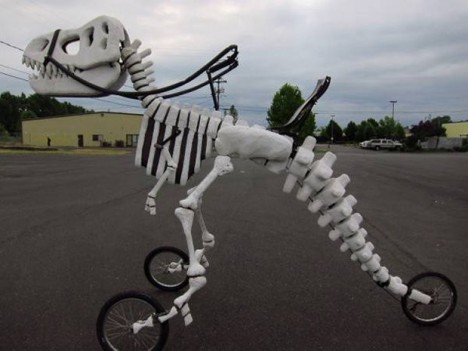 Sue's actual skeleton is made of chromoly steel and covered in foam and textured paint. The seat sits a hefty five feet off of the ground, so you need a stepladder to get on – but if you're out in the wilderness with no help up, the bike's builder hid hand and foot holds in the skeleton's left side.
Once you're safely in the seat, you can speed along up to 15 mph, but the trike's comfortable cruising speed is around 7 mph. The huge moving sculpture tends to attract a whole lot of attention, so Sue's creator suggests only taking her out if you're interested in having adoring throngs of fans surround you at all times.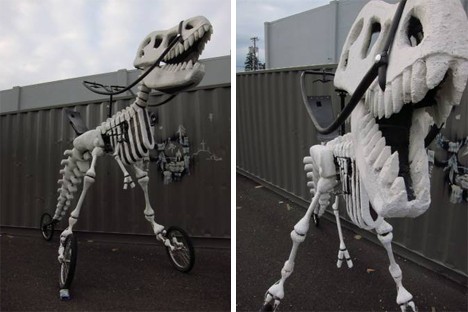 Maybe the best thing about Sue, other than the fact that she's a huge rolling dino skeleton, is that her head and arms can be moved by her driver. Sue can gnash her teeth, wave, and shake her head- and unlike the dinos in the Jurassic World movie, she's remarkably well-behaved.