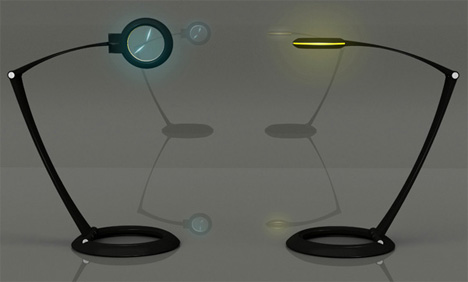 Lamps and clocks are two relatively universal items found in every office and home. This lovely concept combines the two in a gentle but useful design that lights up your home while keeping you grounded in reality – at least as far as the time is concerned.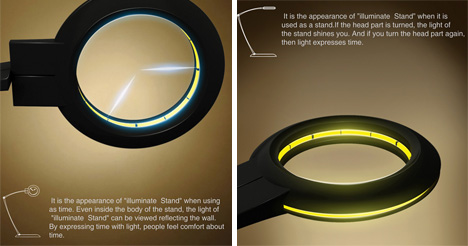 Rather than assaulting you with bright numbers and blinking dots, the clock is a subdued duo of blue lights. The lamp portion of the Illuminate Stand is a directional desk lamp type of light.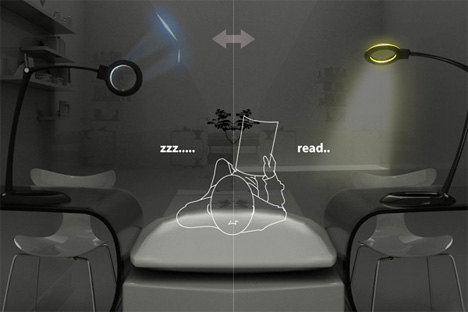 The Illuminate Stand wasn't built with an on/off switch. Rather, the default position is with the "head" of the lamp turned sideways so the clock is visible. When you want to use it as a lamp, you simply turn the head downward to direct the soft beam of light at your work surface or book.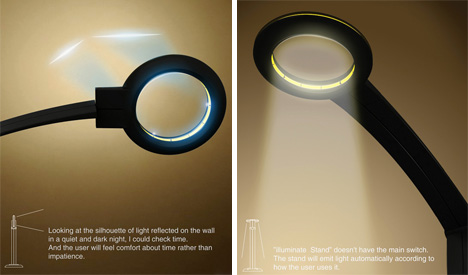 In a dark room, the beams of light that make up the clock face would be projected onto the wall so the user could tell the time without having to turn toward the lamp. According to the designers, the Illuminate Stand is a more relaxing form of timepiece that invokes feelings of relaxation rather than stress.