In urban transportation, electric is quickly becoming king, and the Johanson3 line of electric trikes are riding right into the competition. The Johanson3 scooters sport quite a few features that make them different from just about everything else that's out there at the moment.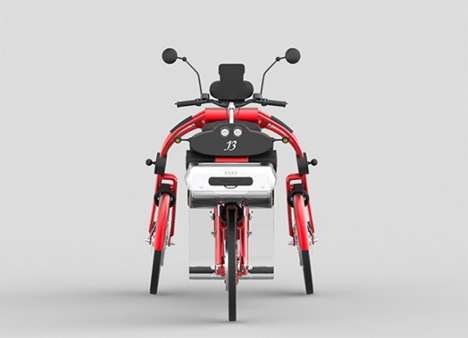 The scooters' designation as "cargo bikes" indicates the first difference. These aren't made to simply tool around town on; they can actually function as useful vehicles that will let you get your books, groceries, or even a passenger from one point to another. And if you are using the trike as your "last mile" transpo, it detaches into two parts and folds up for easy stashing in a car or train.
The back seat allows a passenger to sit comfortably while holding onto conveniently placed handles. In the front, the driver has an adjustable seat that can be used for sitting or for standing/leaning. The Johanson3 folks say that this feature is designed to make it more comfortable to ride the scooters while riding a skirt, kimono, sari, or other garment that might make riding a traditional sit-down scooter difficult.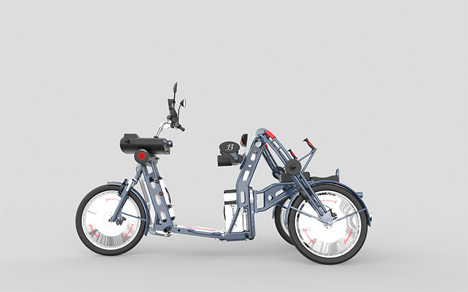 If you don't have any stuff or people to haul around, the rear seat can also be used as a cargo space. There are several different models from the company, each with a different weight capacity: the Rhino is the workhorse of the bunch with a payload capacity of 660 pounds (or two rear passengers), and the Urban 2+ can carry up to 485 pounds.
It's hard to gauge just how energy efficient the scooters will be since they haven't yet been released and speed requirements differ from one country to the next. Twin hub-mounted motors in the back propel the trike along with zero emissions; if you're riding hard and keeping it around the top speed of approximately 28 MPH, you'll get between 35 and 40 miles from each full charge. Pre-orders are being taken now with prices ranging from $2,260 for the kids' version to $3900 for the X-Plorer Cargo Bike.