This funky little hybrid looks like a retro-styled SUV, but its actual story is even more intriguing. The Nimbus concept car is a microbus that can take electric hybrids off-road. The concept comes from Brazilian designer Eduardo Galvani who claims it offers a greater driving range and better fuel economy than any hybrid currently on the market.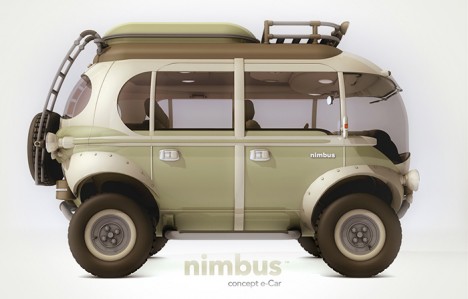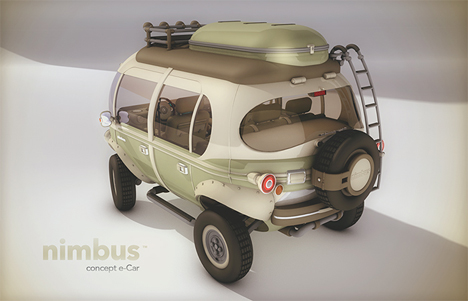 The adorable all-terrain Nimbus is powered by a 130Kw (equivalent to 180 hp) electrical engine lithium-ion battery that works along with the car's combustion micro-generator to keep the battery constantly charged. A small array of solar panels on the vehicle's roof provide the car with clean energy; a regenerative brake system helps recover and save some of the Nimbus' kinetic energy.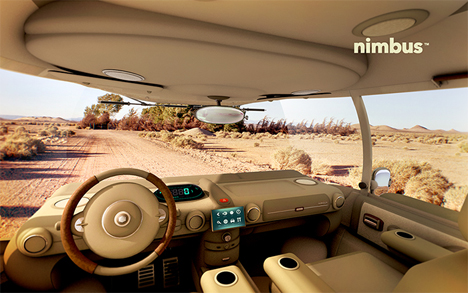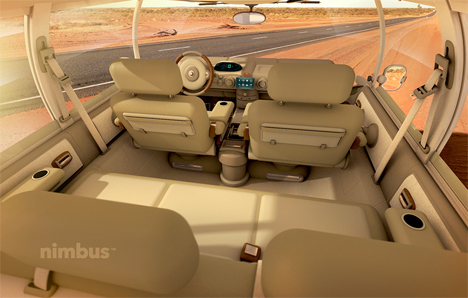 Inside, the Nimbus' nimble controls are equipped with all of the high-tech gadgetry a modern traveler could want. Obstacle detection, auto-pilot, rear camera, four types of drive assistance, GPS, and the rest of the car info/controls can be accessed through the removable 7-inch tablet in the car's dashboard. Six airbags keep the driver and passengers safe from impacts; its unique shape keeps more room between the humans and the road which ups the safety quotient. This shape also gives the Nimbus the ideal center of gravity for traveling off-road in bumpy conditions.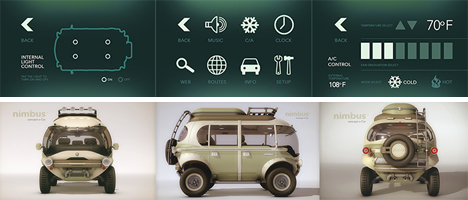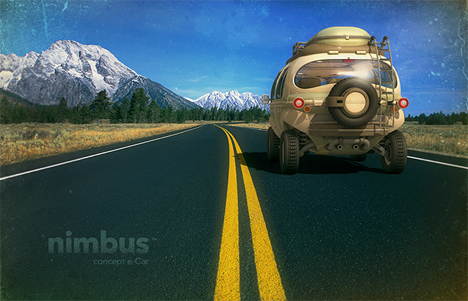 The car's exterior is just as carefully designed as its interior. The body materials were all chosen for their ideal ratios of strength to weight: titanium, aluminum, and carbon fiber all help to reduce the car's energy consumption. A panoramic window array allows for ideal views of the passing landscape. Although it's strictly a concept and will probably remain so for quite some time, the Nimbus has the potential to change the way we travel, making off-road exploration more eco-friendly than it's ever been.