Art cars never fail to delight the people they pass by on the street; their unexpected shapes and colors draw stares everywhere they go. Some of the biggest laughs are garnered by animal-shaped art cars – particularly the animals that hail from the sea. The above Eelsiva art car was created by artist Shelley Buschur. Eelvisa's wide eyes, red lipstick and gold nose ring, not to mention her sturdy papier-maché body, almost completely conceal the fact that there's a 1983 Mazda pickup underneath. Buschur originally planned to make an eel that looked like Elvis, but as the work took form she realized that it was more female than male.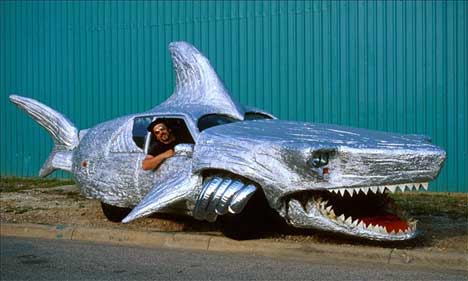 Ripper the Friendly Shark was the first of many art cars created by the late, celebrated California artist Tom Kennedy. Kennedy loved art but wasn't a big fan of museums, so he created art cars to bring amazing art to everyone. Ripper features jaws that open and close and a tail that swishes. The fantastic art car has been to countless art car parades and festivals, as well as many years of the Burning Man festival.
You'd be forgiven for being slightly afraid upon seeing this monstrous lobster in your rear view mirror. But Virginia sculptor AJ Strasser didn't create Art the Lobster to incite fear; rather, he says that he built Art "for art's sake." The 35-foot long fiberglass, polyurethane foam and wood lobster rides atop a Toyota pickup and took 2,000 hours of work over six years to build. The sculptor was commissioned to build a similar, even bigger lobster truck for the restaurant chain Red Lobster in 2000 to raise money for the Special Olympics.