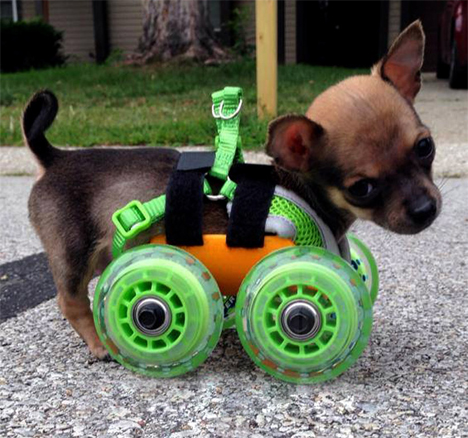 Tiny chihuahua TurboRoo was born with no front legs – a condition which might have led to a miserable life if he hadn't managed to find his way to a group of very caring individuals. TurboRoo's breeder knew that he would need special attention, so surrendered the little pup to a vet clinic in Indianapolis.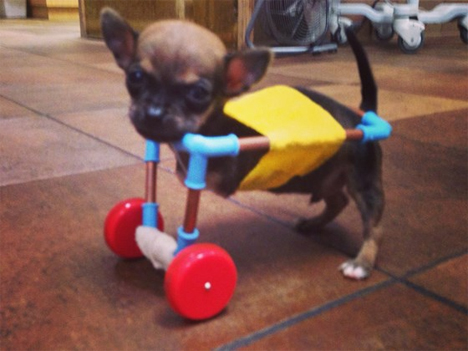 The workers there fashioned a makeshift wheelchair for TurboRoo using toy parts. As far as helping him walk, it worked just fine – but the staff knew he would need a more high-tech solution to give the pup a happier, healthier, more normal life. They started a fundraising campaign that raised an enormous amount of donations and caught the attention of Mark Deadrick. Deadrick is a mechanical engineer and president of 3dyn, a high-tech specialty fabrication shop.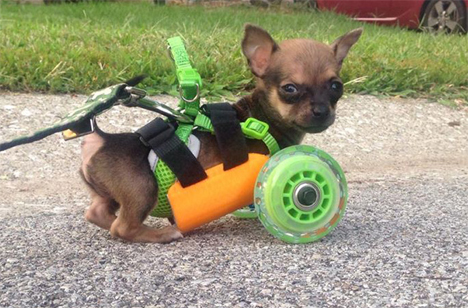 Deadrick saw a challenge in the little chihuahua's situation and decided to design a custom mobility solution for him. He used a 3D rendering program to design a small wheeled cart, then printed it out on a Makerbot 3D printer. He attached some inline skate wheels to the cart and TurboRoo's new ride was ready to go.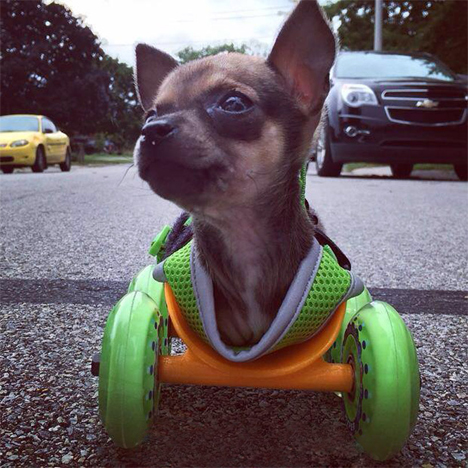 Deadrick has since made two other prototype carts for TurboRoo. The first version was a bit too big, the second version was a bit too small, but the third prototype with four wheels is working well to help him get around. Once he reaches his full-grown size, TurboRoo will get a custom carbon fiber cart designed from a mold of his body that will fit him perfectly and stay with him for the rest of his life.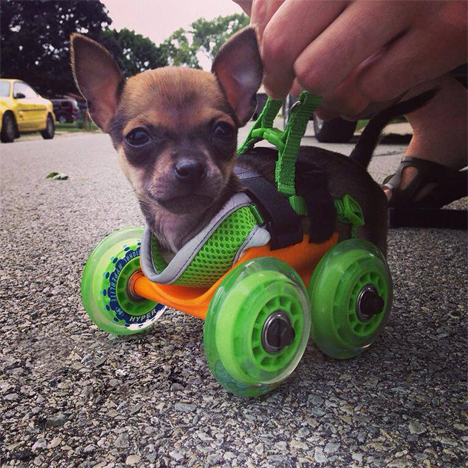 Besides garnering national attention and the generous efforts of 3dyn, TurboRoo has found a family as well. Ashley Looper, a vet tech at the hospital where TurboRoo was surrendered, adopted the little guy and has given him a forever home where he'll be well cared for. The money raised from the fundraising campaign will go toward paying for TurboRoo's permanent cart and the remainder will be donated to helping other animals with disabilities.