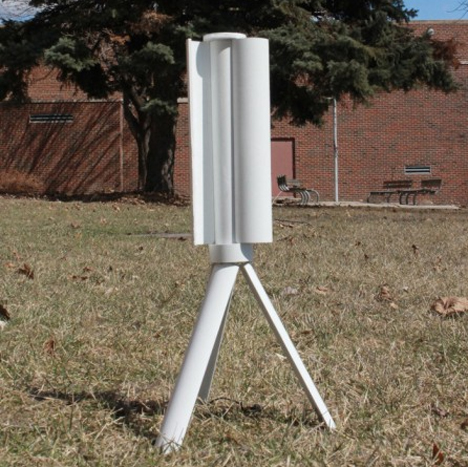 In the early 21st century, solar cell phone chargers were almost unheard of. Now, they're practically a dime a dozen. But a solar charger has a big design flaw: it needs the sun in order to work. When it's dark, cloudy, or raining, you're out of luck. One element that you can almost always count on, though, is the wind.

Minnesota-based company Skajaquoda is betting that there will always be at least a little breeze no matter where you are. Their Trinity Portable Wind Turbine Power Station is a charger that uses the clean energy provided by the wind. It can charge any USB device and is ultra-portable, folding down into a small 12″ long cylinder.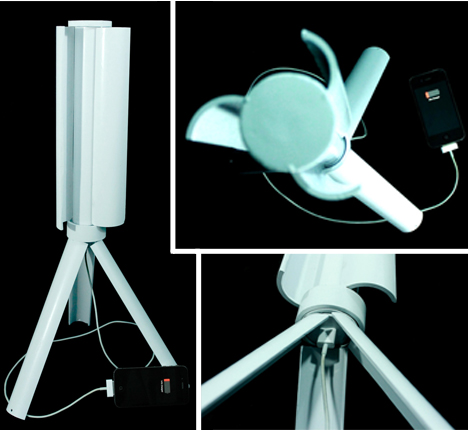 When you need to charge a device, you pull the Trinity's three legs down and its three blades automatically pop out. The legs can be set lower so that the Trinity rests right on the ground, or pulled together to elevate the Trinity a bit and perhaps catch some more air. There are small holes in each leg so you can tack them down into the ground and prevent the wind from toppling the whole thing.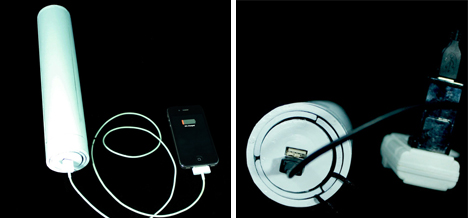 The spinning blades work with a 15-watt generator to charge a 15,000-mAh lithium-polymer battery, which should be able to charge a phone four to six times. However, if you want to leave the battery at home you can plug your device directly into one of Trinity's two USB ports and charge it directly from the generator. If you want to go the opposite way and just use Trinity as a portable charger, though, you can charge the internal battery at home via a wall charger.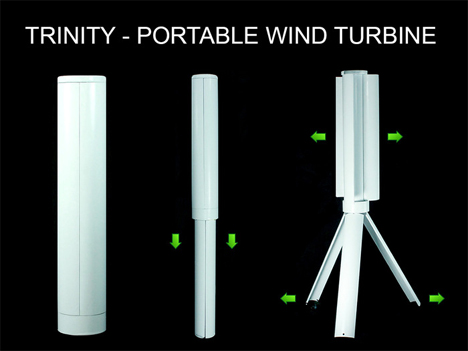 The Trinity weighs in at a rather bulky four pounds, but that extra weight will help it stay put in the wind. It's also waterproof so you can charge its internal battery even when it's raining outside, which is something that solar chargers will never be able to top. As of the time of publication, Skajaquoda is raising money on Kickstarter to produce and ship the first generation of Trinity chargers, and you can get one for a $279 pledge.