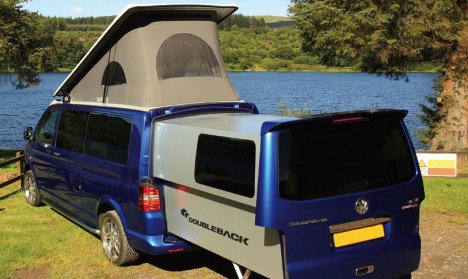 Pop tops, those soft-sided height extenders that give campers a little more room inside VW vans, are almost a necessity among serious VW enthusiasts. But a Welsh company called Overlander Motorhomes is taking that concept several steps further with the DoubleBack. Their creation adds an additional 6.5 feet of usable camping space onto the back end of a T5 Transporter van.
The DoubleBack looks like a regular van when it's on the move. It's only when it stops for the night that the modifications become apparent. The simple touch of a button extends the pod in less than 45 seconds, including two stabilizing, self-leveling legs. The back part of the van transforms from a cargo area to a small kitchenette and sleeping area with a double bed. A pop-up top adds some vertical space as well.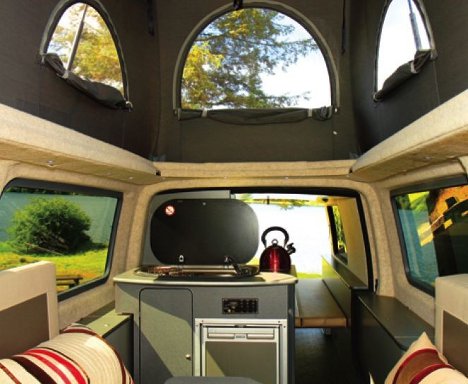 While there are plenty of VW enthusiasts out there who would be willing to pay almost any amount for unique VW vehicles, the nearly $87,000 price tag on the DoubleBack will deter all but the wealthiest buyers. This is particularly so since there are plenty of more functional, bigger and less expensive campers on the market. But they, of course, don't have the benefit of being a transforming Volkswagen.