Paris is rightfully known as one of the fine art capitals of the world, and a new streetside exhibit is adding a slightly kooky angle to that reputation. Renault provided four of their itty-bitty Twingo cars to celebrity designers and gave them free reign to make them over as they saw fit. The goal was to show off the versatility and personality of the tiny cars – and that they did smashingly.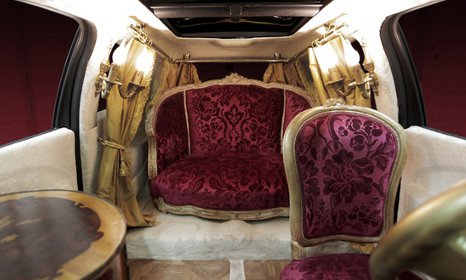 The cars were given to a German interior designer, a French fashion designer, a British pop star and an Italian chef. They were instructed to add their own unique spin to the low-cost cars and let the world know just how versatile Twingos can be. The result was four tiny art galleries on wheels.
Although the Twingo has been around since 1993, the most recent generation was criticized for being too plain-Jane and just like every other tiny French car. Renault wanted the world to know that even their "anonymous" cars could be imbued with the unique qualities of their drivers. The art cars definitely reflect the personalities of the designers who renovated them. The pop star created a dressing room in the front of her car and a recording studio in the back. The chef covered his car in dry pasta and a mobile pantry.
The French fashion designer Jean-Charles de Castelbajac replaced the Renault's seats with fancy royal furniture, and German designer Nils Holger Moormann went all-out, building a miniature library complete with a fireplace and wooden floors. The four-car exhibit, entitled "Cabinet of Curiosities," will be on display along the Champs-Elysées until January 21, 2012.